Risk Management
Rostelecom's risk management framework allows for effective modelling, assessment, and mitigation of risks that the Company is exposed to. The framework is structured in full compliance with the requirements of international and national regulatory bodies. To further enhance its reliability, Rostelecom implements projects aimed at automating risk management processes.
Risk management framework
Rostelecom's risk management framework emphasises effective management decision-making under uncertainties and related risks and capturing identified opportunities to achieve strategic goals.
Risk management is carried out in full compliance with international and national standards. The Company updates its risk management regulations as a part of business-as-usual.
Rostelecom's key internal documents regulating risk management:
Charter
Risk Management Policy
Regulations on the Board of Directors and Regulations on the Audit Committee of the Board of Directors
Regulations on the Integrated Risk Management System
Regulations on the Risk Management Committee of the Management Board
Risk Management Procedure
Risk management is based on a system of concise, clear, and measurable corporate goals set by Rostelecom shareholders and management. Rostelecom approves its Risk Management Programme every year and monitors its execution on a quarterly basis.
Risk Management Programme includes:
a list of strategic risks, and strategic risk scenarios
key strategic risk indicators and thresholds
strategic risk management activities.
Operational risks are considered throughout our day-to-day operations and when developing new products and services. To ensure risk monitoring and rapid decision-making, Rostelecom develops and automates risk dashboards for business processes. In particular, Rostelecom developed an automated risk dashboard for procurement in 2018.
Quarterly progress reports on the Risk Management Programme and other relevant matters are reviewed at the meetings of the Management Board's Risk Management Committee which approve follow-up risk management initiatives.
Risk management actors
| | |
| --- | --- |
| Actor | Roles and responsibilities |
| Board of Directors | Defines the operating principles and improvement areas of the risk management framework; performs overall monitoring of risk management performance |
| Audit Committee | Oversees the operation of, and identifies gaps in, the risk management framework; makes recommendations to the Board of Directors |
| The Company's management | Manages key risks and regularly monitors the risk management framework |
| Internal Audit and Internal Control units | Assess risk management performance and advise on improvements |
| Senior Risk Manager and Risk Management units | Build, monitor, and maintain the risk management framework |
| Business units and employees | Manage risks within their areas of responsibility |
Rostelecom Group's risks
The risk map details the key risks Rostelecom is exposed to. Dots show the severity of potential impact and risk likelihood in 2018. Arrows show risk movement forecasts for 2019.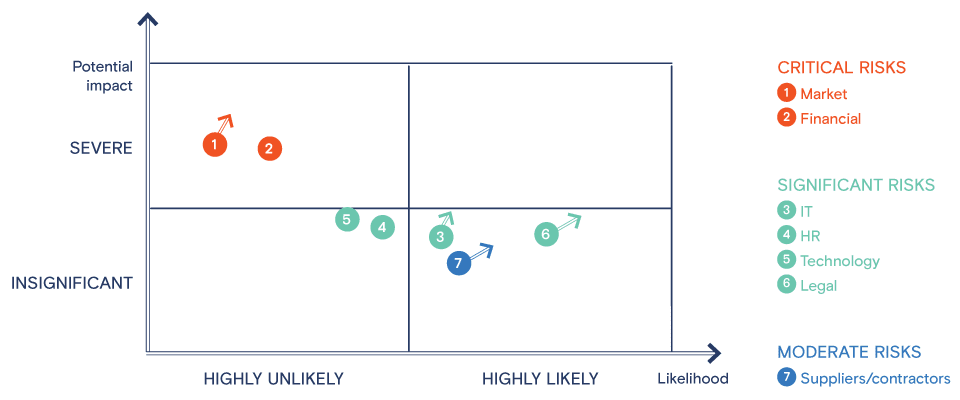 Critical risks may result in:
failure to achieve KPI targets set in our Strategy and Long-Term Development Programme
extended business interruptions
significant downgrade of credit or corporate ratings
negative publicity in national or international media.
Significant risks may result in:
significant variance in key performance indicators
short-term business interruptions
downgrade of credit or corporate ratings
negative publicity for the Company in regional or local media.
Moderate risks do not have a material impact on our financial and business performance; however, they need to be monitored to ensure timely detection of their potential growth in materiality.
Development of the risk management system in 2019 will prioritise:
identifying risks and developing mitigating measures
deploying advanced risk management solutions
automating risk dashboards for business processes to enable prompt notification of management.
Risks and mitigation
No.
Risks in 2018
Mitigation in 2018
Manageability in 2018
Change in manageability in 2019
Risks in 2019
Mitigation plans for 2019
1
Market risks

1. Slowed market recovery in terms of prices; price wars in some regions

2. Stronger trend in MS telephony revenue decline

3. Market capture by competitors

Development of new products and services

Measures to improve customer loyalty

Measures to ensure reduced time-to-market for new products to capture market share

Medium
↑
Market risks

1. Flat ARPU

2. Higher subscriber churn

3. Market capture by competitors

Measures to improve customer loyalty

Development of new services through product teams

2
Financial risks

Resource allocation in an environment of future TMT sector uncertainties

Automation of procurement violations monitoring to enable prompt notification of management and reduce business impact during control procedures

Procurement regulations updates

Medium
=
Financial risks

Insufficient funds to invest in business growth

Prioritising projects depending on applicable risk factors by project type

Focusing on risk criteria in project planning models

Regular audits

Improving approval, procurement, and project control processes

3
IT risks

Compromised data integrity or reliability

Prioritising IT projects

Aligning the development of business continuity management projects with integrated information security system for target OSS/BSS architecture

Implementation of information security measures

High
↑
IT risks

Compromised data integrity or reliability

Implementing projects for cyber security and information protection of the network and internal services

Prioritising improvements to internal IT systems

Acknowledging risks related to the criticality of internal and external services provided by the Company when running planning procedures

4
HR

Key personnel shortages

Personnel misconduct

Providing comfortable working environment and development opportunities for employees

Using modern talent search and recruitment tools

Developing and using retaining tools

High
=
HR

Key personnel shortages

Personnel misconduct

Improving employer brand

Using modern talent search and recruitment tools

Developing and using retaining tools

Introducing new training tools

5
Technology

Business interruptions due to key infrastructure failures

Improving reliability and developing the network infrastructure
High
=
Technology

Business interruptions due to key infrastructure failures

Access network upgrade projects to reduce maintenance costs and failures; developing network failure monitoring systems

Import substitution programme

6
Legal

Unfavourable regulatory changes

Monitoring regulatory changes

Assessing equipment requirements and drafting a list of initiatives required to comply with applicable laws and regulations

Assessing investment requirements of approved initiatives

Low
↑
Legal

Unfavourable regulatory changes

Monitoring regulatory changes

Cooperating with market partners; participating in industry working groups

7
Suppliers/contractors
New risk included in the Risk Management Programme
High
↑
Missed deadlines, overpricing, low quality of services and work performed by suppliers or contractors
Improving approval, procurement, and project control processes